A doll or an action figure
A few years ago my husband bought a computer game that came with a plastic scantily-clad female toy. I said, "Ooh, look, it comes with a doll!" To which, he replied, very quickly, "It's NOT a doll. It's an ACTION FIGURE!!"

"Ah," I said, "call it what you want. I still say it's a doll."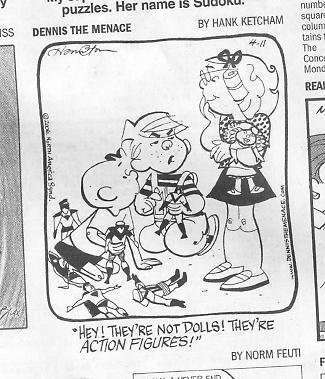 This coversation spawned an ongoing debate.

Here are some talking points of the debate:

1-

Is Ken (Barbie and Ken) a doll or an action figure?

This is still up for debate.

2-

Is Barbie a doll or an action figure?

Well, she certainly has a figure and she would certainly be called an action figure if she were wielding a frying
pan.

3-If you put GI-Joe in a cradle and wrap a blanket around him is he still an action figure?

4-

If they are mere plastic pieces what is their action? Doesn't that require DOING something?



A baby doll is definitely a doll. Raggedy Ann is certainly a doll, unless she is used to whack a sibling over the head.

What do you think? Let me know your thoughts on the subject.



Labels: Misc